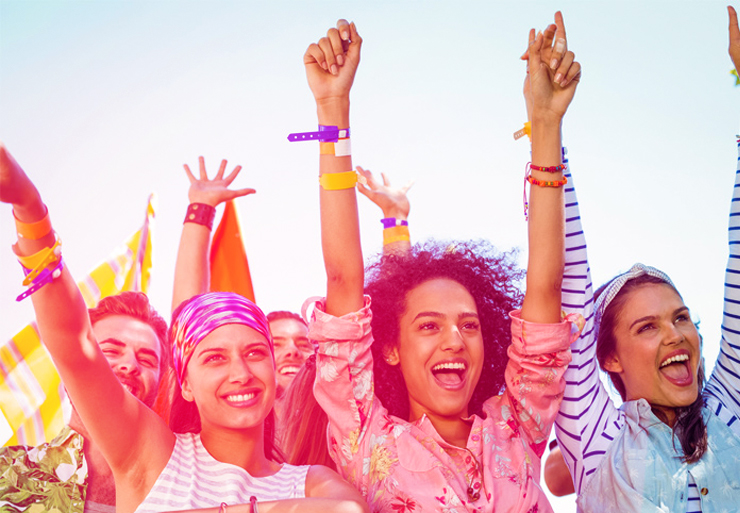 1 April
Upcoming events that you won't want to miss out on
This year one of my resolutions is to do more fun things. What's the point of working all the time when you don't take any time off to enjoy yourself? Often when you have stuff planned, other things crop up and take the wind out of your sails. I didn't do as many activities as I wanted to last year because of things like work, family commitments, weather, getting sick. A lot could happen to throw your plans off course. But probably the biggest thing standing between me and the fun stuff is money. And the next thing you know another year's gone by. So you should seize the day, as Mr. Holland said in that Robin Williams movie.
And do you know what's fun to go to? Festivals. Here are some reasons why festivals are fun according to a recent Marie Claire article – watching music at festivals is better than watching it on television, you will get a chance to see smaller bands, have interesting experiences and feel the exhilaration of seeing a live performance with an audience, make friends and get into nature. Don't miss out on these upcoming events, without further ado, here are some South African festivals you can't afford to miss out on.
Back to the City
Set in April, this festival aims at bringing rap, b-boy, and hip hop to the stage in the city. Mary Fitzgerald Square in Newtown hosts the festival, now in its 10th year. It has become the hip-hop event of the year, showcasing the the likes of Cassper Nyovest, AKA, Squatter Camp, and more. This is one of those upcoming events not to be missed. Osmic Hence, the event organiser, says that apart from hosting musical talents it also has street art, breakdancing, art installations, film, skateboarding, and a range of other creative activities. And there is an educational element too, with speakers and panel discussions where industry players share their knowledge on diverse subjects.
Splashy Fen
Attracting thousands of people every year to the farm of the same name near the Underberg in KZN, Splashy Fen has grown from a fireside sing along to a regular event for Easter long weekend. Running for more than 25 years, it was started by Bart Fokkens and Peter Ferraz. It is set in a natural amphitheatre which creates awesome acoustics, with mountains, winding rivers and open fields as a backdrop. Sold!
Oppikoppi
Every August Oppikoppi is held on a farm in the bushveld that lends it the name. It's hot, it's dry, and it's dusty. And festival goers like it that way, turning "In dust we trust" into their mantra and returning every year in greater numbers. Oppikoppi celebrated its 20th anniversary in 2014 in grand style, with great Hugh Masekela playing a tribute show. It has been host to some old favourites – Springbok Nude Girls, Urban Creep – and newbies Zebra and Giraffe and PH Fat too. As far as festivals go, they've hit this nail on the head!
Rocking the Daisies
On Cloof Wine Estate near picturesque Darling in the Western Cape, this music and lifestyle festival has come to host top international and local  acts playing a variety of music and is also the greenest festival in SA. There is also burlesque dancing, puppeteering and comedy. There is swimming, and an extensive variety of food stalls, and with more hipsters than you can shake an ironic shaved Honduran Mahogany stick at, it's sure to have something for everyone. How about buying one of these sought after tickets as a gift for someone special. Tickets cost R650 and if you find that you are coming up short on cash remember those quick cash loans from Boodle.
AfrikaBurn
Inspired by the Burning Man festival in the US, it's based on a philosophy of unconventionalism, questioning consumerism, and that kind of thing. AfrikaBurn has been staged every year since 2007 on a private farm called Stonehenge, adjacent to the Tankwa Karoo. Temporary artworks are built by groups, all of which are burnt near the end of the festival in a ceremony called The Burn. Festival goers wear costumes and decorate "mutant vehicles." This is a festival that has to be experienced at least once in your lifetime, that's why it makes our list of unmissable upcoming events.
With Boodle you'll never have to miss out on upcoming events, and for more top tips on how to love your money, subscribe to our blog.