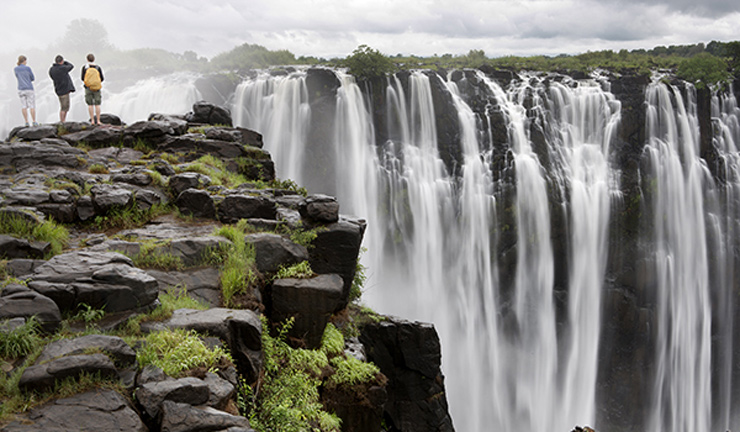 26 February
The Victoria Falls: holiday destination of dreams
From the moment I hailed a taxi and set off from the Livingstone International Airport in Zambia I could already hear the far off rumble of the Victoria Falls. Known locally as Mosi-oa-Tunya – "the smoke that thunders", the 1708 metre wide falls, which stretch across the Zambian and Zimbabwean borders, pumps out about 550 000 cubic metres of water a minute, creating scenery so spectacular it inspired the famous quote by Victorian-era explorer David Livingstone as providing, "scenes so lovely they must have been gazed upon by angels in their flight".
Livingstone, I presume?
The small city of Livingstone had been on my bucket list of must-visit holiday destinations for quite some time. I'd heard friends recount tales of donning yellow raincoats and still coming out sopping wet from the wild spray of the falls, or taking river safaris to view elephants and other wildlife from the banks of the river. So when I came across a reasonably priced package deal that included flights and accommodation, I snapped it up instantly.
I wasn't disappointed. My hotel was close to the falls, so it was a mere stumble to enjoy impressive views of the rushing waters, rainbows and spray so thick it resembled clouds. I took a sunset river cruise as part of my deal, where the canapes and cocktails were surpassed only by the magnificence of the sunset over the great Zambezi. I dined outdoors under star-packed skies with the distant grunt and grumble of foraging hippos for entertainment. As far as holiday destinations go, it was near perfect. There was just one thing missing …
Experiencing the thrills and spills of an adventure capital
The Victoria Falls is one of the world's top adventure holiday destinations. Adrenaline junkies travel from across the globe to bungee-jump, zip-line, abseil and dangle from the epic rocks surrounding the falls. Each morning safari vehicles pick up hordes of fresh faced tourists, who by evening are magically transformed into sunburned, but well-seasoned adventure travellers. I'd overhear their scintillating tales of adventure and I wanted in on the action.  
So much to choose from
I decided to treat myself to at least one epic activity, I'd come all this way after all. After doing some research  I decided that a full day whitewater rafting trip was the way to go. The Batoka Gorge, at the foot of the falls, is famous for its 24-kilometre stretch of rapids which boil and churn from small blips in the river to rambunctious grade 5 rapids. Even the National Geographic recognises Batoka as one of the top 10 white water rafting holiday destinations in the world.
The only issue was that by now my budget was on the limp side and at about 16 to one, the Rand/Dollar exchange rate wasn't doing me any favours either. My one-day dream excursion was going to set me back by about R2500 – not enough to render me bankrupt, but just enough to destroy my holiday budget.
It's then that I remembered that Boodle offers quick, small loans and that if I set my payment date to coincide with payday, I'd be able to fully enjoy the rest of my break AND experience the thrill of a lifetime.
Memories like this are what makes life worth living
When I climbed into the plastic yellow boat, I understood for the first time why they're referred to as rubber duckies. Compared with the might of the Zambezi I immediately felt as insignificant as a small bath toy. We were told to paddle and paddle and paddle and paddle we did, even at times when the boat lurched skywards and the only contact our oars could make were with thin air. We were repeatedly flung from the refuge from our boat and saved from the brackish hell waters by our competent guides.
It was in all, the most exhilarating adventure of my life so far. Thanks Boodle, it's memories like these that make life worth living.