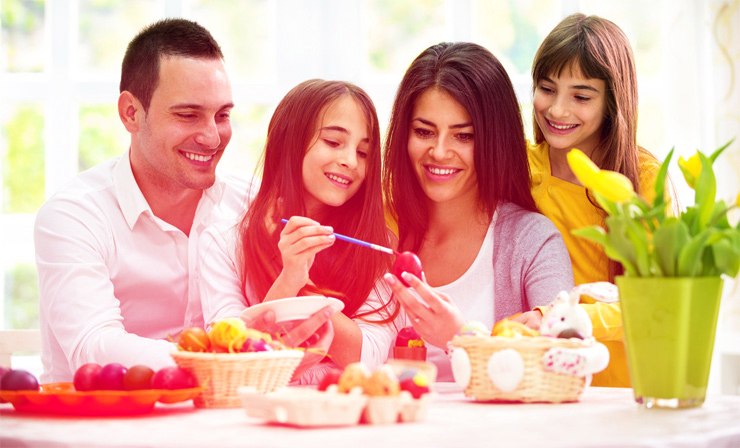 22 March
Fun things to do with your family this Easter weekend 2016
With Easter weekend 2016 nearly upon us, we should all start googling what we want to do over this much-loved family weekend. If you simply Google 'things to do this Easter weekend 2016' you might get overwhelmed by the sheer volume of it all. As author John Steinbeck sternly puts it, "Ideas are like rabbits. You get a couple and learn how to handle them and pretty soon you have a dozen." Well, we've sorted through the clutter for you and here are the places to be this Easter weekend.
If you happen to be in Cape Town
Lindt Chocolate is offering an exciting opportunity for mini-Michelangelos to get their creativity on. Take your children to their Easter kids studio on the 19th and 26th of March where they can mould their own Lindt bunny and decorate a delicious chocolate garden. Book now as space is limited.
If you have a fast runner in the family then be sure to take them down to the golden Easter egg hunt at Kenilworth Racecourse. Both you and your kids will be entertained by this racy event. Watch the horses gallop by while having complete peace of mind that your kids will be kept busy trying to find the mysterious golden egg, from which the prize money will be put away for their education. But wait – it gets better. If one of your little ones doesn't feel like running about, they can play to their heart's content on the jumping castles or get their face painted.
What Johannesburg has in store for you this Easter
With the Easter Sunday faire in Illovo, guests can expect to be thrilled by an egg hunt, jumping castle and parade ‒ and that's just for this kids! Mom and Dad can dine on fine wine, decadent food, a variety of excellent craft beer as well as live music to enjoy. Entrance is free so be there or be square.
You're not forced to go somewhere with an Easter theme so take this time to visit educational attractions like the Apartheid Museum, James Hall Transport Museum or the Cradle of Humankind. Or for purely entertainment reasons, treat the little ones to a visit to Gold Reef City, Wild waters or swing through the treetops at AcroBranching.  
Fun things to do in Pretoria
Every year Ludwig Roses hosts an Easter egg hunt amongst their field of roses that seems endless. Keep your little ones entertained as the you search the rose fields for Easter goodies and let them hop on a free tractor ride, while you enjoy yourself by indulging in a picnic amongst the scenery or relax by their Spiced Coffee restaurant.
Head down to the Irene Village market for their Easter weekend 2016 market, where there will surely be Easter arts and crafts to delight you and your family. The Irene Village Market offers a beautiful family setting as you walk through the forest market and take a gander at what everyone has to offer. Be delighted by guys on guitar singing beautifully, a human statue and great food stalls to satisfy your taste buds.  
If you happen to be at the opposite end of any of these great Easter weekend 2016 events, never fear because there's nothing a short plane ride or the Gautrain can't fix. And if you're short on cash, we have your back. Don't let a lack of funds ruin your Easter weekend. Go out and make memories.
Subscribe to the Boodle newsletter for more ideas on living the good life and how to create memories over the holidat periods.