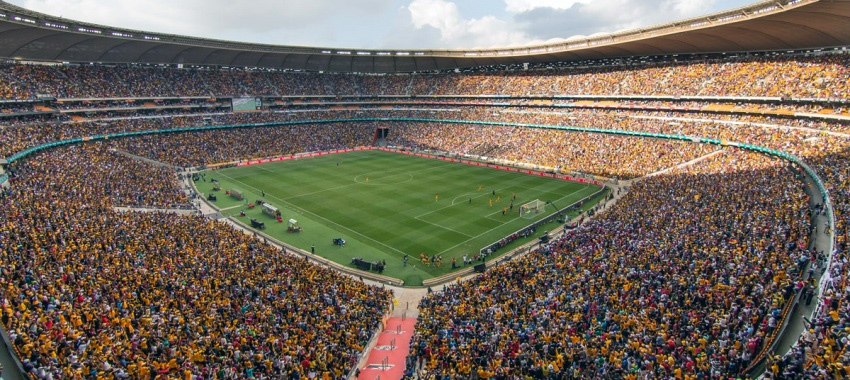 22 January
Don't miss the Soweto Derby: Orlando Pirates vs Kaizer Chiefs just because it's January
I don't know about you, but I'm super amped for the second leg of the Soweto Derby. With Orlando Pirates winning 3-1 in the last encounter, tensions are high to see which of the Soweto giants claim bragging rights for this showdown.
The game, next Saturday, January 30 at the FNB Stadium, kicks off at 15.30. I know I'm bristling to watch rivals Orlando Pirates and Kaizer Chiefs face off against each other next week. Will Siphiwe Tshabalala do it again, keeping the pressure sky high by dominating the Bucks' territory?  Or will Siyabonga Sangweni and Happy Jele have come up with a new strategy to keep the Phefeni boys in their place?
I can't imagine why anyone wouldn't be excited for the game, so for the newbies who want to fast track their football cred, here's a short history to Soweto's beautiful game.
What's the deal with the Soweto Derby?
The two Soweto clubs are among the most sponsored clubs worldwide and the Soweto Derby match is tipped to have more viewers at the stadium than any of South Africa's national team matches this year. Many players eschew places on overseas teams to stay with Chiefs or Pirates, or return from overseas teams for better money. So, yes it's kind of a big deal.
Where it began
On January 24, 1970, Orlando Pirates (then 33-years young) played newly-formed Kaizer Chiefs for the first time. Kaizer Chiefs was formed by one-time Orlando Pirates player Kaizer Motaung. This match took place at Orlando Stadium and would be the starting point for a rivalry that has exceeded 45 years. The ferocity of their antagonism stems from the fact that Motaung played for Orlando Pirates before forming Kaizer Chiefs. He then moved to the United States and played football for Atlanta Chiefs whose name and logo he adapted for the team he would come to form.
Don't miss out
Tickets are still available today but are likely to sell out soon after payday . So if you haven't already secured yours you will probably be begging, borrowing or stealing to ensure that you make it to one of the biggest events on the calendar.
January is usually my tightest month financially, but I wasn't going to miss the stadium thrill of this derby just because there were too many days till payday. So I took out a small Boodle loan so that when the tickets went live I was one of the first in line. Now all I need to do is grab my makaraba, gather my crew and get myself fieldside.