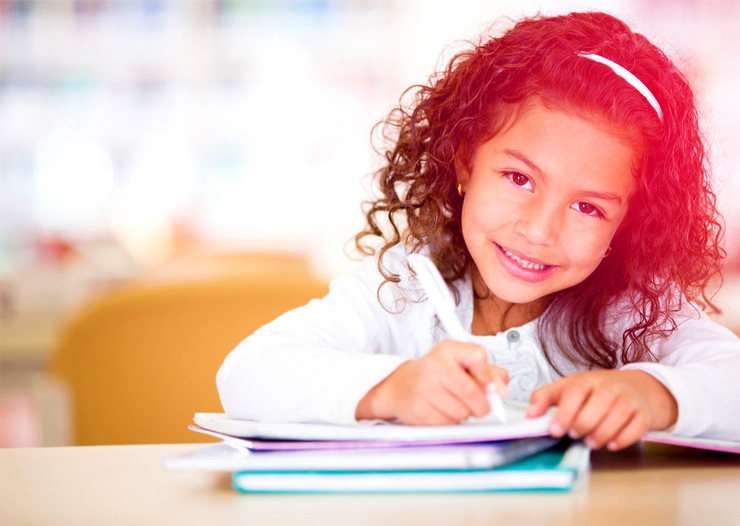 4 April
Creating learning spaces for your child
Not too long ago I saw a kid with a t-shirt with a picture of a television on it and on the little screen it said: "TV... so much better than homework." I did have a little chuckle, I'm not going to lie. But it also made me think about homework, more than ever this is an important part of a child's education and we should really try to make this, sometimes daunting, endeavour as enjoyable as we can for our offspring. Plus this seems to be one of those rare things that the early childhood education experts actually agree on – that allocating a special learning space in your house for your little tyke's studies will inspire them to be less distracted and even become proactive about their work.
Getting their own space
Your child will have a sense of ownership and share the feeling of importance for a space dedicated to their homework. I mean if you slap together their projects in the car on the school run, they might sense that you don't really feel very seriously about it. But making a purposeful space that is far from distractions like television and video games, with a desk, comfortable chair, good lighting and storage for whatever they might need, will inspire them to get down to business.
You don't have to kill yourself to make a learning space
Making a homework space does not have to be in the same league as remodelling your house. It is a matter of allocating a quiet space, finding the right kind of furniture that fulfills the needs of home studying and getting some organisation going. So, even a simple table and chair with a box for storing supplies might be all that you need to put you on track for making a home area that will enhance your child's early childhood education.
Getting the right size furniture
One important feature of the learning space is a child-size desk. Sitting at the (adult) dining room table will not only fill the workspace with distractions but also it's not actually the right size for these little learners. Being seated at the wrong size of table on the wrong size of chair, leaning up, with shoulders hunched and feet dangling, will probably lead to aches and pains over longer periods and isn't ideal for putting them on their path to winning that Noble Prize for Science. Do some research with your child on Pinterest for ideas that will suit both your tastes and also the space that you have allocated to the learning space. There are some ingenious ideas out there, such as foldaway options for limited space or enclosing an area under a bunk bed to really cut out distractions. Looking up ideas on Pinterest is sure to raise some excitement from your budding brainiac and you can capitalise on that excitement by getting plans going with a short term cash loan from Boodle.
How to make the homework space uniquely theirs
Making the space uniquely theirs with artworks will add to their sense of ownership. You could also consider hanging schedules, wall charts, and other things they might need to refer to. Maybe a bulletin board (chalkboard or whiteboard) that can be used for projects with upcoming deadlines. Or a calendar to give a bigger picture for due dates, and tests and exams. And that way your diligent little darlings will be able to see when the holidays are coming up when they will be able to enjoy the fruits of all their hard work, and maybe even enjoy some TV time.
Subscribe to the Boodle newsletter for more useful family advice.